MVRS is Requesting a Rate Increase
Mill Valley Refuse Service will be requesting a rate increase from all the jurisdictions it services at upcoming city council and board meetings during the month of September. (Actually, by the time you read this, two meetings will have already occurred in Homestead and Corte Madera. Meeting dates for all the rest can be found below.)
It is never fun to ask for more money, but this year is especially difficult given the disruptions caused by the COVID-19 shutdown of businesses that has so affected many people's pocketbooks. In fact, MVRS delayed this year's rate application process in hopes of an economic recovery that would reduce the increase needed to cover operating costs. Normally, this process starts on April 1, which is our deadline to submit a rate application to our jurisdictions. However, that was just at the start of the shutdown, and our commercial revenue was down 20%. Increasing expenses combined with this drop in revenue would have required a significant rate increase, so we postponed the application in hopes that the economy would have recovered by now.
Unfortunately, the economy has not rebounded as much as we had hoped it would, but commercial revenue is projected to be down 16% instead of 20%, so there has been some improvement, resulting in a rate request that is 1.1% lower than our original application in April.
Overall, our rate request includes an increase of 7.41% (this varies from jurisdiction to jurisdiction depending on allocated costs). Unfortunately, this annual increase amount must be billed over a nine-month period due to the delay in our application, so new rates, if approved, will seem higher than 7.41%.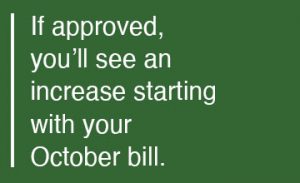 2020 Approved Rates
Homestead approved new rates on August 25, and Corte Madera approved new rates on September 1.
Rate Application Hearings
Residents can learn more about our rate application, and attend rate hearings (via Zoom), by checking the official websites of your jurisdictions. Meeting agendas will have copies of all materials supporting our rate request, and a link to the Zoom meetings.
Rate Application hearings for the community in which you live will be held on the following dates*:
Strawberry: September 8
Belvedere: September 14
Tiburon: September 16
Mill Valley: September 22
Alto: September 23
Almonte: September 28
County: October 6
*Homestead approved new rates on August 25, and Corte Madera approved new rates on September 1.
Why The Increase?
This year's rate increase request is not all about COVID-19. Other major factors include the purchase of two new trucks so that our fleet remains in compliance with California's carbon emission rules, and increases in the cost of liability insurance (up 22%), Workers Comp Insurance (up 11%), and Health Care (up 15%). There was also a rise in labor costs of 4.5% per our Union contract.
Some good news is that the new Dual Stream recycling program produced tangible signs of success. We delivered cleaner loads to the Marin Sanitary processing plant, and there were cost savings from cheaper dump fees and lower fuel consumption.
While the recycling marketplace did not improve in any notable ways last year, processing fees for dual stream material loads were still lower than the single stream fees we were paying that prompted our switch to dual stream collection. The savings were approximately $58,000 in the fourth quarter alone.
Finally, the simple fact that our trucks now dump recycle loads at the nearby Marin Sanitary plant—and not at the Redwood Landfill—saved 1,564 gallons of fuel in Q4 of 2019. Projected over a full 12-month period, fuel consumption will go down by 6,254 gallons in the 2020-2021 rate year, and save around $25K at current fuel prices. Given this savings, and the fact that our material is no longer being further transported to San Jose for processing, we can all be proud of this notable reduction in our carbon footprint.