Compost Cart Odor
Try layering dry yard waste and wet food waste to contain odors. When you don't have yard waste, putting a layer of newspaper or shredded documents at the bottom of the cart, and bagging food scraps in a paper shopping bag is an option. Keeping the lid closed at all times holds odors in, even if the interior smells between pickups.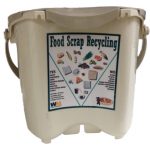 Free Compost Pails
To help you collect food scraps, we provide countertop food waste containers (one per unit) free of charge to our apartment customers. Have your apartment owner or account holder call our office for more information at (415) 457-9760.
It's the Law
California multifamily dwellings with five or more units that generate four or more cubic yards of solid waste must subscribe to an organics recycling service (i.e. compost service). Don't worry, we've got you covered!