SB 1383 Short-Lived Climate Pollutants
SB 1383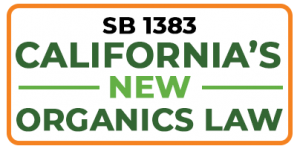 is a statewide effort to reduce emissions of short-lived climate pollutants such as methane. The super pollutant reduction strategy rules set in SB 1383 for organics recycling and edible food recovery are part of California's bold effort to fast track climate progress by reducing landfill methane emissions.
When organic waste (or compost) such as food waste, green waste, landscape and pruning waste, food-soiled paper, and non hazardous wood waste is sent to landfill, it decomposes anaerobically (without oxygen) which creates methane — one of the most potent greenhouse gases in Earth's atmosphere. Methane is a short-lived climate pollutant that is 84 times stronger than carbon dioxide over a 20-year period. NASA recently captured satellite images of California landfills and published an inventory showing them as super emitters of methane.
Diverting organic waste to recycling is an integral part of the state's climate change program and can significantly reduce the impacts of climate change in our lifetime.
Specifically, SB 1383 sets the following targets:
Reduce statewide disposal of organic waste by 50% by January 1, 2020 and by 75% by January 1, 2025 (based on 2014 levels).
Rescue at least 20% of currently disposed of edible food for human consumption by 2025.
Apartment/Multifamily Requirements
SB 1383 went into effect January 1, 2022 and establishes targets to significantly reduce the disposal of organic waste in landfill and recover edible food. Multifamily (apartment) requirements are as follows:
All generators of waste (businesses, public entities, and single/multifamily residents) must properly sort their waste, by either placing food scraps, food/beverage soiled paper products, and yard trimmings in the compost, or self-hauling compostable material to a composting facility or program. Generators must also place recyclables including unsoiled paper and cardboard (and cans and bottles) in their recycling cart. The garbage cart should not be contaminated with organic materials or recyclables. Jurisdictions (cities, counties and special districts) have the authority to assess a fine for non-compliance.

We've made this easy for you! Commercial Compost, Recycling, and Garbage Service are all part of your normal service package with Mill Valley Refuse. If you do not currently utilize your Compost Service, please contact our office for help.
Contamination occurs when anything that doesn't belong in that particular cart (compost, recycling, or garbage) is placed in the cart for collection. Learn more:

Multifamily building owners or their designee shall annually educate employees and tenants on proper sorting of materials.
Multifamily building owners or their designee shall provide information to new tenants before or within 14 days of occupation of the premises.
Need help with education?

Print our Recycling Posters and put them up at your organics, recycling, and garbage stations to encourage proper sorting.
We're here to help!
If you have any questions, please call our office Monday through Friday, 7:00 a.m. to 3:00 p.m. at (415) 457-9760.