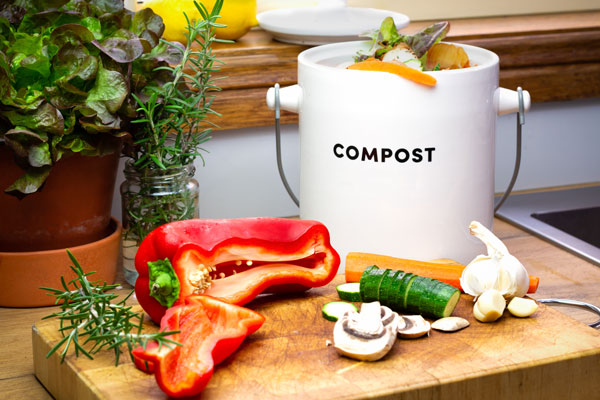 Rising levels of greenhouse gases in the Earth's atmosphere are causing a climate crises. When short-lived climate pollutants like organic waste (food scraps, food-soiled-paper, and yard waste) end up in landfill, they break down anaerobically which generates methane, a greenhouse gas super pollutant 84 times more potent than carbon dioxide. In California, landfills are the third largest source of methane. 
CALIFORNIA'S SHORT-LIVED CLIMATE POLLUTANT REDUCTION STRATEGY 
In 2016, California adopted the most significant waste reduction mandate in the last 30 years.
Senate Bill 1383
set methane emissions reduction targets for California in a statewide effort to reduce emissions of short-lived climate pollutants. This law targets a reduction in statewide disposal of organic waste by 75% by 2025 (based on 2014 levels) and the rescue of at least 20% of currently disposed of edible food for human consumption by 2025. 
HOW DOES THIS IMPACT RESIDENTS?
SB 1383
regulations require residents and businesses to subscribe to and participate in an organics curbside collection service or self-haul recycling and organic waste to a recycling or composting facility. 
As a Mill Valley Refuse Service residential customer, your trash and recycling collection service includes compost (or organics) recycling as part of your normal weekly service package. Therefore, when you properly sort recyclables and organic waste from your trash and place all your food scraps, food-soiled-paper, and yard waste in your curbside green compost cart, you're doing your part to comply with SB 1383!
Need a refresher on what goes in your green compost cart?
Click here.
Listen to this Podcast from KCRW's Greater LA about SB1383 and how it will impact Californians.